Welcome to the February challenge.
Pin It
Unfortunately this month we are saying goodbye to Carlyann. We will miss you. Thanks for everything.
This month we have a fantastic sponsor
My Creative Classroom
is an online arts and crafts learning center. Our interactive and in-depth courses are instructor led and filled with wonderful projects and techniques to help you get the most out of your supplies. This Spring MCC will be offering over 100 courses. From the Cricut to Primas, to mixed media and rubber stamping, to scrapbooking, sewing and more; we have something for everyone. Don't miss out on some wonderful classes starting in January, including:
Textured Backgrounds - Starts Feb 1st
Die Cutting with Spellbinders - Starts Feb 3rd
Stenciling with Style - Starts Feb 6th
Art Buffet - Starts Feb 8th
Designing with Scraps - Starts Feb 10th
Silhouette 101 - Starts Feb 14th
We are excited to be sponsoring The Craft Garden Blog Challenge. You can view our entire class list on our website at My Creative Classroom. You can also find us on
Facebook
too! One lucky winner will receive a free seat to a class of their choice.....Good Luck!
As I'm sure you are aware 2012 is a leap year. Your challenge this month is to use this picture as inspiration

Here is what my wonderful team came up with:


Now this months image got my head thinking in a very different way and I'm not sure why, but I was inspired to make the bracelet and earrings below. The beads just jumped out and I immediately thought of this months challenge! Something a little different but I hope you like them.
Carlyann
This month's challenge i absolutly loved! i knew exactly what i was going to use!! the first thing that came to mind was frogs!!! so froggie it had to be!! :-) Unfortunately this is my last Design Team creation here at The Craft Garden! It's been a wonderful time here! thanks for having me and i wish the whole team luck for the future! xxxx
When I first saw the picture I knew whatever I did there had to be balloons and kraft! Now with February being "lovie" month I also needed to have Valentines including! So here's what I did using a wee Hot Air Balloon image!
I took the balloons, kraft and pink as my inspiration
Kylie Smith
This picture spoke to me of excitement and colour. The balloons translated into round embellishments on my page. This is a double 12"x12" scrapbook layout: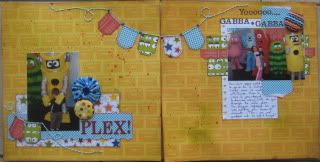 And the individual pages: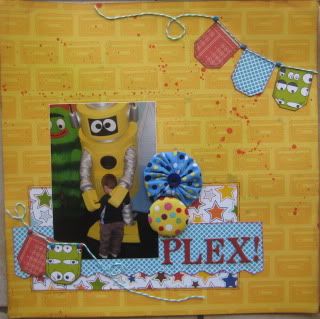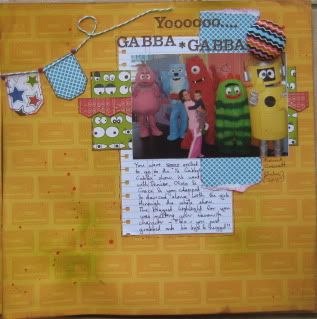 Kevin
I took the pink from the picture & being a leap year I wanted to do these Frogs.
Last minute photo with no natural light so apologies. I was inspired by the leap part of the picture.
I was inspired by the pastels of the balloons, so I have pastel green as my main color, and stamped balloons randomly on my background paper.
The January winner will be drawn randomly in the next day or two.
To enter this month please use the Inlinkz button and a winner will be drawn at random. Entry is open until 23:59 GMT on 29th February 2012. Good luck everybody.